Advertisement

______________________________________________________


Global Crypto Users To Explode to 1,200,000,000, Predicts Former Goldman Sachs Executive – Here's His Timeline
Daily Hodl Staff
August 1, 2023
Ex-Goldman Sachs executive Raoul Pal says that the number of crypto users is on course to explode above one billion across the globe.
The CEO of Real Vision and Global Macro Investor tells his 997,500 Twitter followers that a chart comparing the adoption of the internet and crypto over each of the sectors' initial ten years suggests that digital asset users could number 1.2 billion by December 2025.
"Been running this chart for a few years now in Global Macro Investor (GMI)… it has been bang on target. The adoption of crypto is relentless. It will likely exceed the 43% adoption rate of the internet over the next three years."
According to the former Goldman Sachs executive, the number of global crypto users could reach 5.1 billion by 2030, with central bank digital currencies (CBDCs) and non-fungible tokens (NFTs) boosting the adoption of digital assets.
"Going out to 2026, it looks like this…(CBDC's will be a decent chunk of this as will NFTs for tickets, ID, etc.)"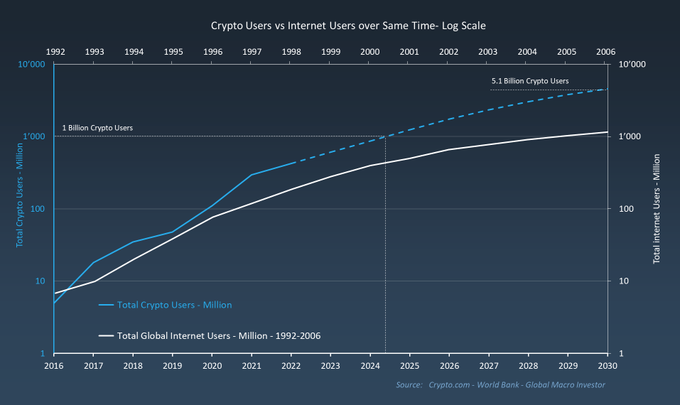 Pal also outlines his thoughts on Worldcoin (WLD), the controversial biometric crypto project that launched its token last week. The Real Vision CEO argues that humanity needs a form of digital identity, and he says Worldcoin represents one possible solution.
______________________________________________________

Advertisement

______________________________________________________


Pal also says fully decentralized versions of digital identity with zero-knowledge (ZK) proofs are the "needed" next step. ZK proofs are a cryptography technique in which one party can prove to another party the truthfulness of a statement without revealing any other information besides the truthfulness of the statement.
Source: The Daily Hodl
______________________________________________________
If you wish to contact the author of any reader submitted guest post, you can give us an email at UniversalOm432Hz@gmail.com and we'll forward your request to the author.
______________________________________________________
All articles, videos, and images posted on Dinar Chronicles were submitted by readers and/or handpicked by the site itself for informational and/or entertainment purposes.
Dinar Chronicles is not a registered investment adviser, broker dealer, banker or currency dealer and as such, no information on the website should be construed as investment advice. We do not support, represent or guarantee the completeness, truthfulness, accuracy, or reliability of any content or communications posted on this site. Information posted on this site may or may not be fictitious. We do not intend to and are not providing financial, legal, tax, political or any other advice to readers of this website.
Copyright © 2022 Dinar Chronicles
______________________________________________________

Advertisement

______________________________________________________


Advertisement